Our Story
Our Mission
Guardian of Caymanian Culture
Swanky Kitchen Band is the guardian of the Cayman Islands' indigenous musical genre- kitchen dance music.
Since 2003, Swanky Kitchen Band has grown a loyal fan base and is Cayman's most sought after and
acclaimed performing act.

This dynamic 9-piece band comprises Samuel Rose (fiddle) Nicholas Johnson (guitar), Paula
Scott (grater/shakers), Lammie Seymour (bass) Devon Edie, (sax/harmonica), Christopher
Seymour (lead guitar) KK Alese- (vocals), Jeffrey Wilson (vocals) and Jared Tibbetts (drums).

They honour their violin-centric roots which can be traced back to the Irish and Celtic fiddling
traditions brought to the Cayman Islands by its earliest permanent settlers. But the driving pulse
of the music comes from the vibrant rhythms brought across by African slaves. The unique
blending of African and European heritage runs through the blood lines of native Caymanians as
well as through their beloved kitchen dance music.

Swanky Kitchen Band has crafted a truly unique sound which balances preserving Caymanian
heritage with putting a fresh spin on popular music and old standards. Accomplished songwriters
and arrangers, they have developed an impressive and growing repertoire of original music and
have produced 2 albums. A seasoned touring band, they have performed throughout the
Caribbean, the United States, the United Kingdom and Panama.

Adaptability is a key feature of the band. They can perform in virtually any setting. They can play
acoustically, or perform a high powered electric set at a major concert. They are equally comfortable
sharing their heritage with school students, or being a featured artist at a corporate event.

Swanky Kitchen Band is ready to take you on an authentic Caymanian musical experience as
they continue their mission to preserve the Caribbean's most endangered musical genre.
MEET THE BAND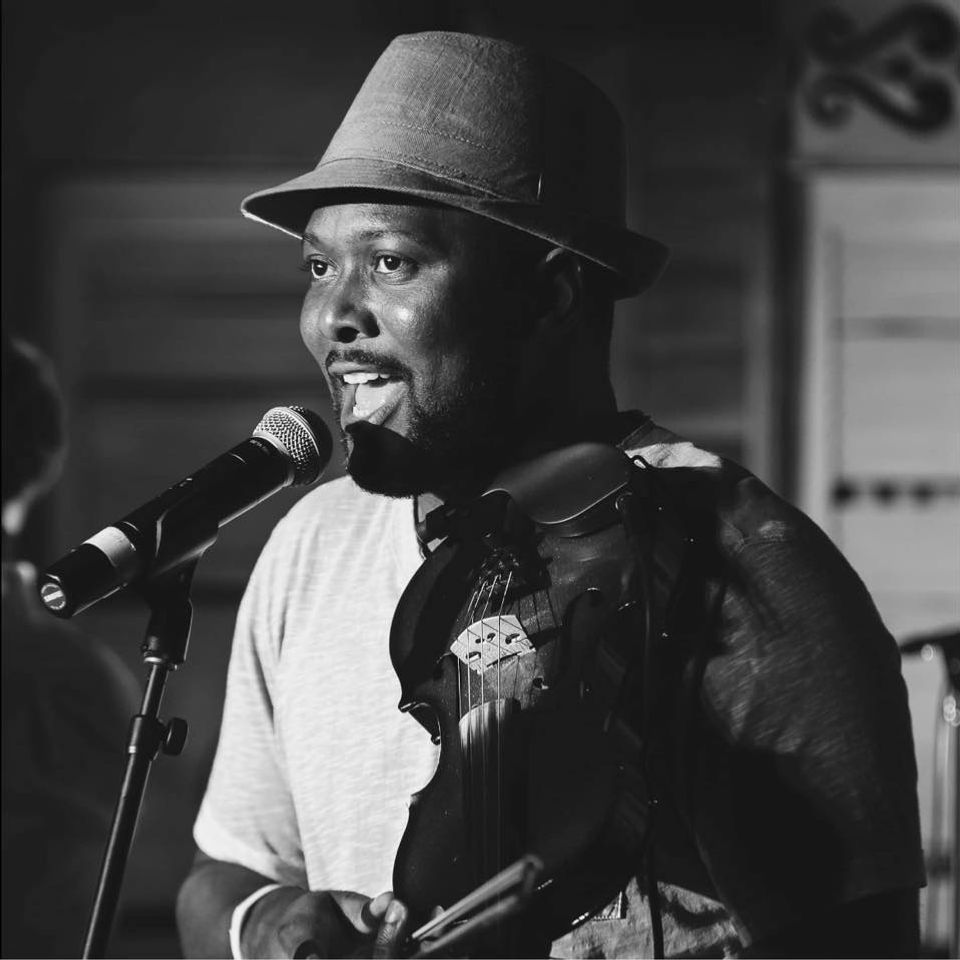 Samuel Rose
Fiddler and multi-instrumentalist, producer, arranger and songwriter, Samuel is a founding member of SKB. His passion for Caymanian culture and heritage helps him to connect the past with the present and future. He's also rumoured to sing backing vocals every now and then. No one knows how old he is, but based on his unusually old soul, it's generally accepted that this isn't his first time here.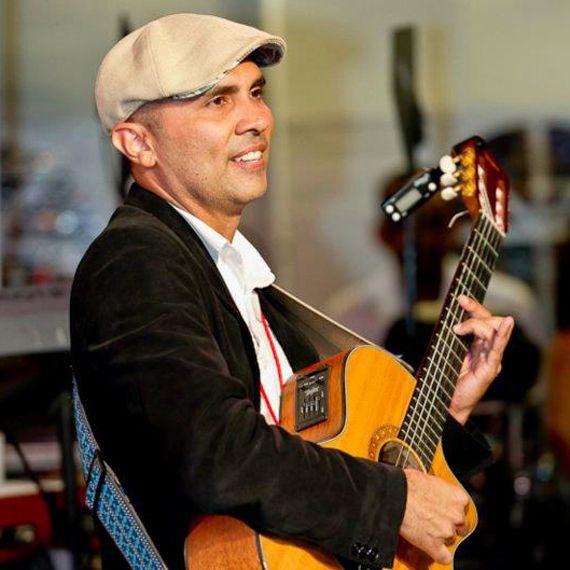 Nicholas Johnson
Nic is an original founding member of SKB having started out with Samuel in 2003. His incomparable rhythm guitar work sets the tone for the whole band. However he is also a gifted multi-instrumentalist and contributes to the arrangements of the music and the album projects. Serving as the band's conscience, he ensures the team remains focused on the core mission. He cooks an awesome cassava cake. Just don't ask him to play the band's now retired cover of "Moves Like Jagger".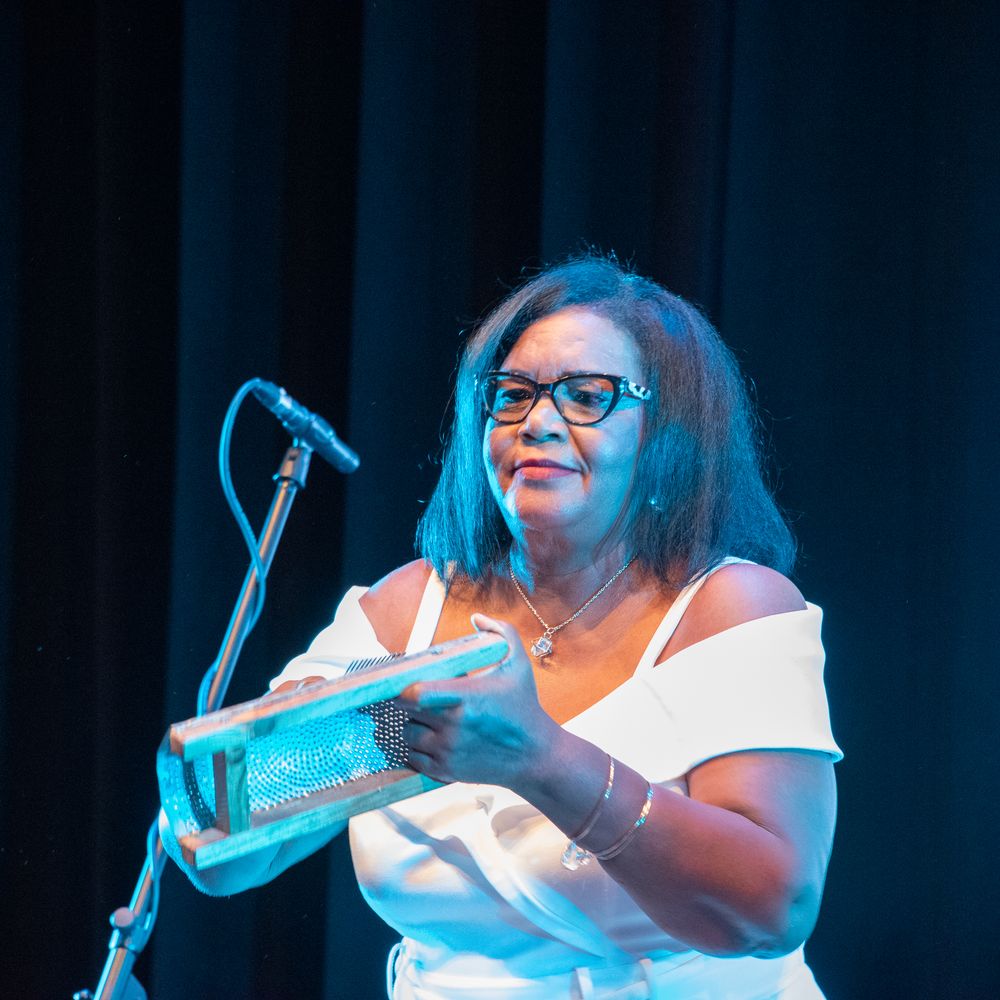 Paula Scott
Hailing from Watering Place, Cayman Brac where she grew up participating in traditional kitchen dances or sand dances, "Ms. P" is the brown sugar in this gallon of swanky. With her grater and shakers, she adds the required sweetening to create the authentic Caymanian sound. She joined SKB in 2006 and brings an unparalleled love and commitment along with a wicked sense of humour! She has been dubbed the Jimi Hendrix of the grater!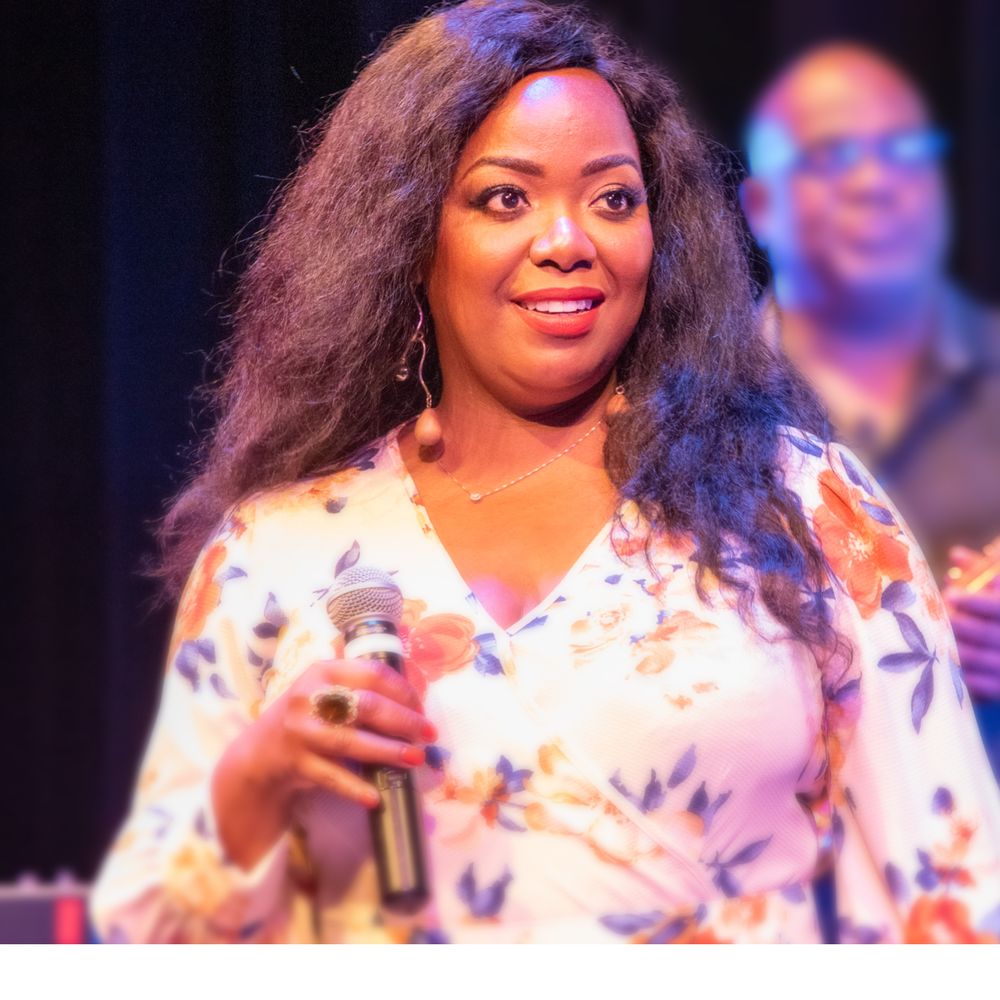 KK Alese
KK joined SKB in 2011 as lead vocalist after featuring as a guest performer on their Sand Dance album. Long established as the pre-eminent Caymanian female recording and performing artiste, KK has released her own solo projects and performed around the region wowing audiences with her elegant and soothing vocals. She has embraced her role as one of the band's primary songwriters. She has committed to learning to play Munzie Boat on the fiddle, an instrument she now regrets giving up as a child!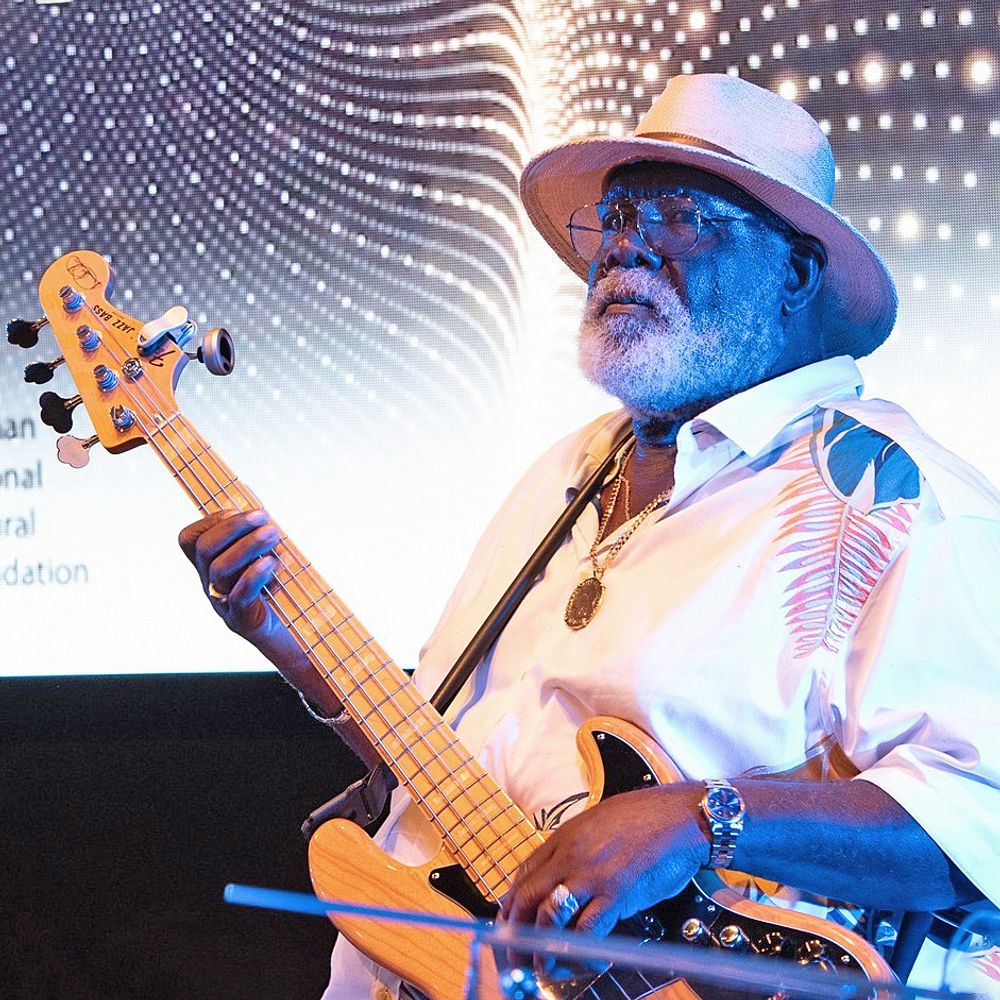 Lammie Seymour
The King of Caymanian popular music, Lammie Seymour is one of Cayman's most beloved and successful musicians. Founder of Memory of Justice band which dominated regional airwaves in the 70's and 80's, he has entertained generations of Caymanians. Lammie returned to his favourite instrument, the bass guitar when he joined SKB in 2012. His musical experience began with the kitchen bands during his childhood growing up in George Town. He's still hoping that the band will eventually get 'tight'.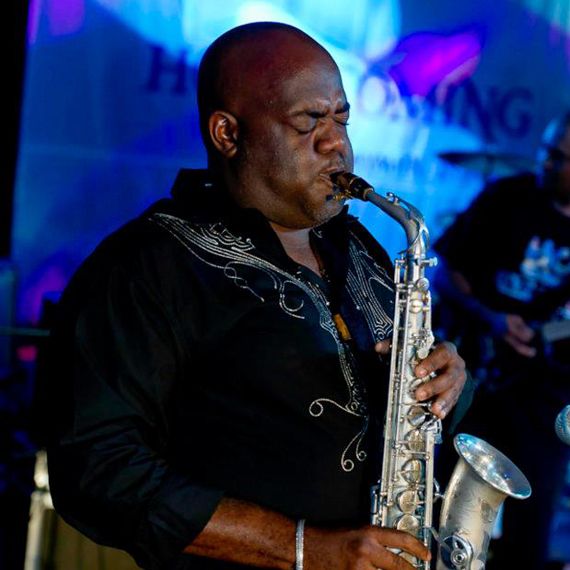 Devon Edie
Devon is the most highly sought saxophonist on the Cayman music scene. He joined the SKB family in 2011 having added his sax to a couple of tracks on the Sand Dance Album. However in addition to the sax, he now performs the harmonica especially on the more traditional tracks. He has worked with several bands throughout his career and regularly performs as a solo act. He is also an accomplished arranger. He has been tasked with learning to play both the sax and harmonica at the same time- in order to create the "hornmonica".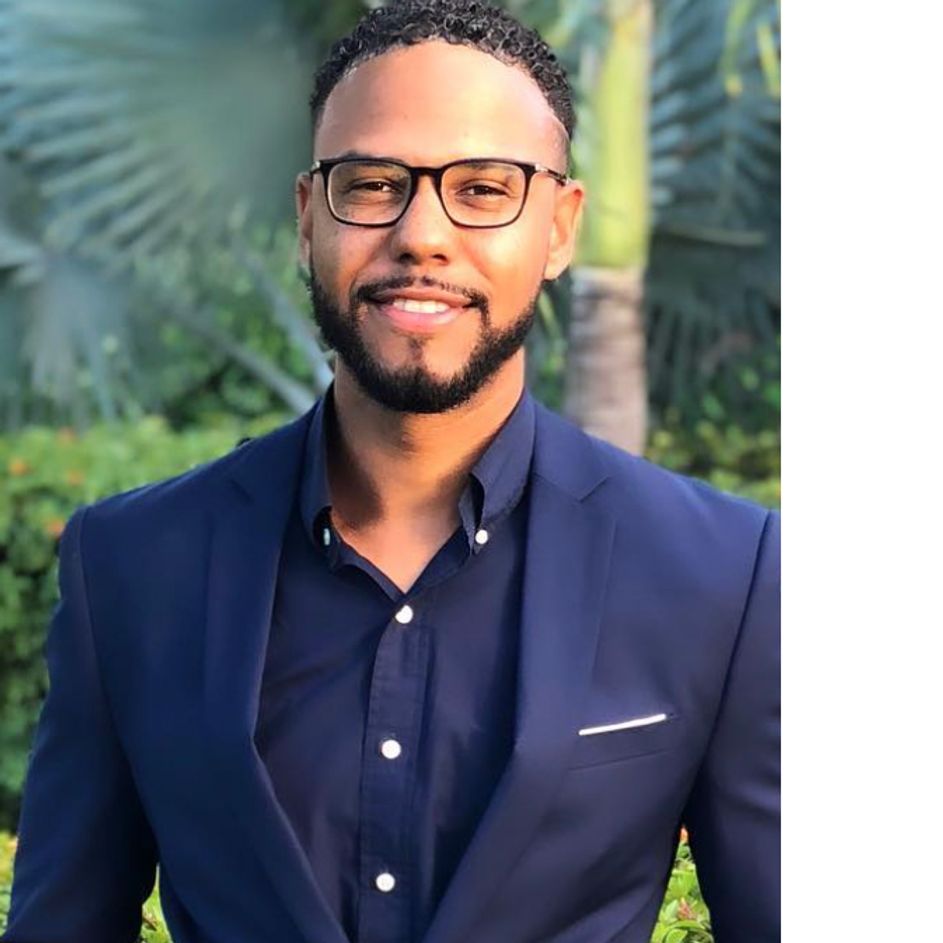 Jeffrey Wilson
Lead vocalist and official hype man of SKB, Jeffrey Wilson brings high energy, showmanship and crowd involvement to the SKB experience. He built a tremendous local following during his time as a solo artiste, when he released a number of singles which received significant airplay. Jeffrey has continued his passion for music with SKB since 2011. Consistently voted the most beautiful member of the band, we agree he's easy on the eyes and ears.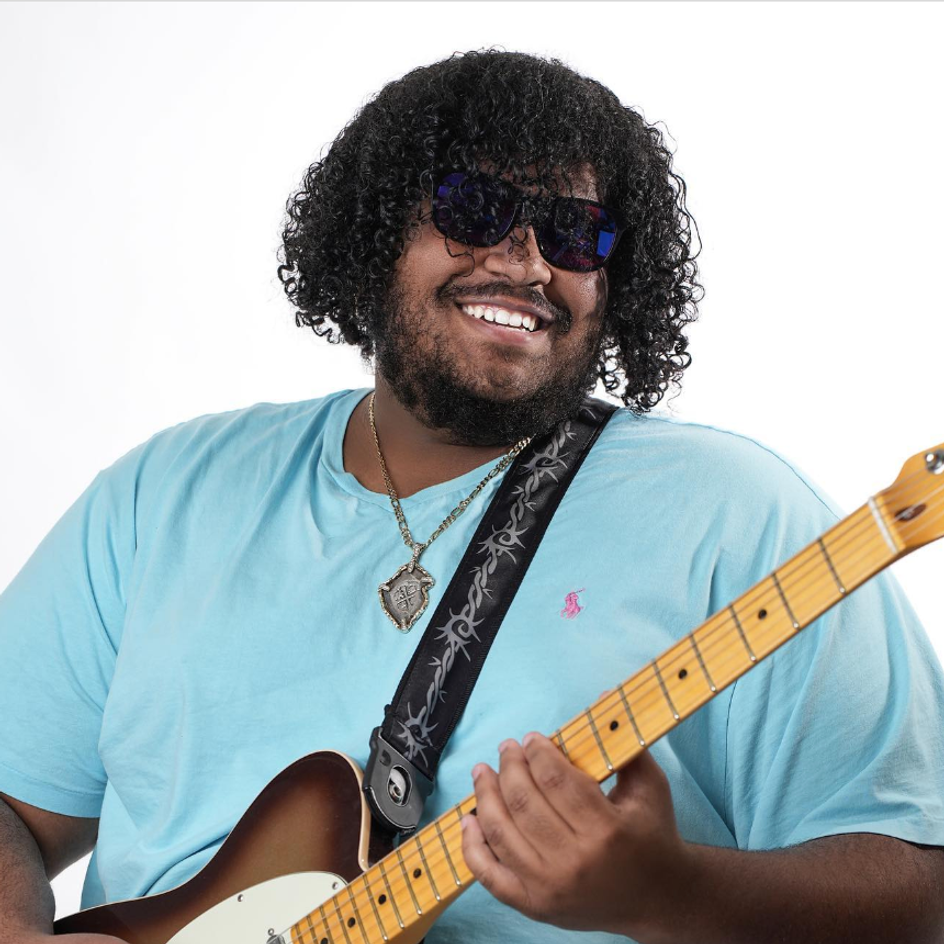 Chris Seymour
Chris is an incredibly gifted lead guitarist. He brings an exceptional ear, tasteful runs and a penchant for groovy solos, to the band. He also can take credit for being Lammie's son. He first started performing with SKB in 2018. Chris is also the band's backup drummer and has performed on the drums on several occasions. When he's not playing his axe, or adding to his growing collection of guitars, he can be found driving his dump truck!
Jared Tibbetts
Jared is the newest member of the SKB family, having joined in 2023. However he played on SKB's 2011 Sand Dance album. A graduate of Berklee College of Music, Jared brings unparalleled technical capability to the drumming. A trained audio/visual tech and recording engineer, Jared loves all things music, even finding time to teach at Spark School of Music. "Drummie" is a quiet, reserved soul, as long as his sticks are not in his hands.