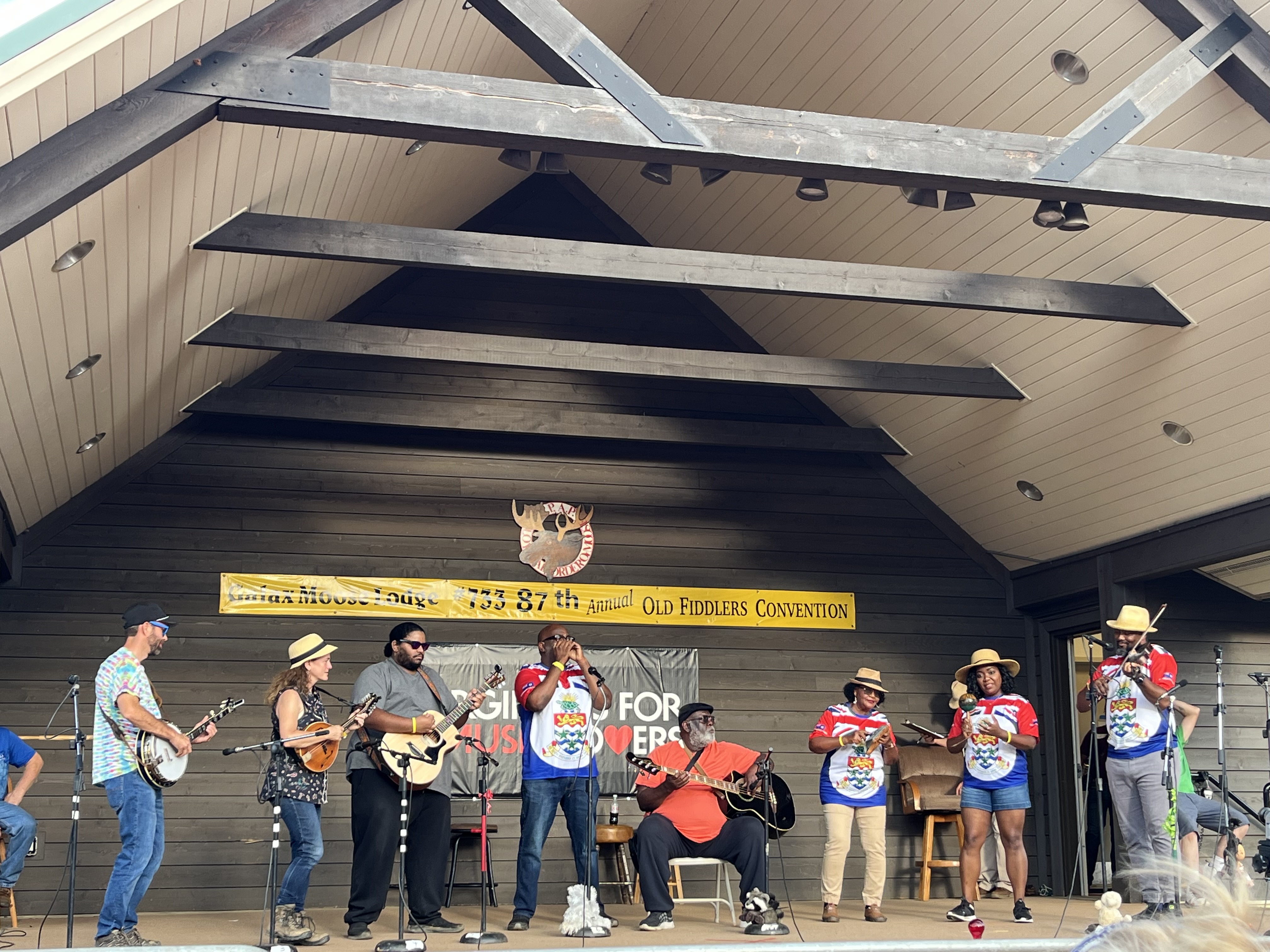 6 Members of SKB recently embarked on a journey to Galax, Virginia where we took part in the 87th Old Fiddler's Convention, the oldest and longest running event of its type celebrating bluegrass and old time band music.  
We were received with great love and respect by everyone there who were fascinated by the strong historical connections between Cayman Kitchen Band music and Mountain Music.  
There were jam sessions into the wee hours of the morning, new connections made, swapping of tunes and many bonds formed between musicians.   The cultural divide was minimal as music served as the overriding unifying force.  
A really special moment came when SKB entered the Old Time Band competition.  Kitchen Band music is more similar to old time than it is to bluegrass.   The competition rules required both a fiddle and a banjo to be part of any band entering.  Unfortunately we do not have a banjo in our current setup.  

Upon mentioning this to a group of musicians we met the night before the contest, one stopped everything he was doing and took us to meet a friend of his.  Upon approaching the friend he simply asked "Jason, do you want to help some friends of mine from the Cayman Islands by playing the banjo with them in the old time band competition?"   Jason literally looked up and said, "Sure, sounds like fun".  
No hesitation, no pause, no doubt, just an instantaneous "yes"!  Jason Flournoy along with our special friend Tara Linhardt on mandolin joined us on stage and helped us to bring the house down with a rendition of "Pearl of the West Indies".
The excitement of getting on the stage to share our heritage in the heart of the bluegrass world is hard to summarise.  However it felt like we belonged- like we were with family.   The irony was that we went on stage immediately after legends of the Bluegrass scene, Woopin and Hollerin Band with Jake Krack.  That's the other stage name for the great Bing Brothers featuring Jake Krack who hail from West Virginia.  There hard drivin', good timin', high energy take on the genre leaves you with no doubt about the fact that this is music made for dancing.   Mike, Tim and Bob Bing, along with Tim Corbett on bass and the great Jake Krack on fiddle never fail to deliver.    They struck up a friendship with Samuel, SKB's fiddler last year when he visited Galax on a personal pilgrimage.   
Immediately after we left the stage, "Mudhole Control" also of West Virginia took the stage.  So in the audience our friends from West Virginia made sure we got a rousing welcome for our inaugural performance.  And in the audience as stage hands got the microphones in position, there was a huge shout out from our buddy Travis Thore, a gentle giant from Tennessee who along with Tara, took Samuel under his wing last year and introduced him to many friends.
It should be said that throughout our visit we had great fellowship and jam sessions with two musical savants- Danny Knicely, the mandolin magician, and Hunter Berry, the legendary fiddler.   Rex McGhee, Jon Lohman, and the awesome team from Swingtown (one of the most popular tents), also showed us great hospitality.  

The humility, kindness and generosity with which we were received by the music fraternity in Galax was overwhelming and inspiring.  
Suffice it to say, we plan on returning in 2024.